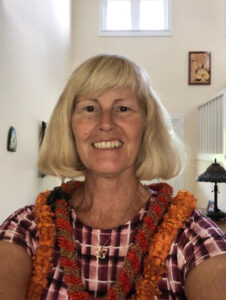 Memorial Day 2022 will be observed on Monday, May 30th, and it's fast approaching. To many Americans Memorial Day is a three day weekend that signals the beginning of summer. Folks head to the beach, hang out with friends, and have family get togethers. But to the men and women in the Armed Forces, to our veterans and their families, Memorial Day is so much more. It's the one day of the year we set aside to honor those men and women who made the ultimate sacrifice and died while serving in the military.
We are very happy to say that the Kauai Veterans Council will host a ceremony to observe this solemn holiday, and the public is invited. Please join us at the newly expanded Kauai Veterans Cemetery in Hanapepe on Monday, May 30th at 10 a.m.  Congressman Kai Kahele will be our key note speaker. If you cannot make it at that time please don't let that stop you from visiting the cemetery later to pay your respects to your friends, family, or other loved ones that may be resting there.
A gathering place for our Military Community and Veterans Organization.
A short 5 minutes from Lihue Airport on Kaua'i Veterans Memorial Hwy and within walking distance, the Kaua'i Veterans Center is the proud home of the Kaua'i Veterans Museum.
The Kaua'i Veterans Center exists to promote and enhance the delivery of benefits to all veterans, their families, and dependents of those who have given their lives for their country. It is a standing monument that honors their service, promotes their military heritage and embraces their family. It will serve as a meeting place for all military functions, veteran events, and family programs. It is also open to our community.
We apologize for the inconvenience. Our business office has modified hours. Please email us at
kauaiveteranscenter@gmail.com
for inquiries, appointments, consultation, and site visits. The office is closed on weekends and all state and federal holidays. If you have a reservation and have questions, please email us at
kauaiveteranscenter@gmail.com
. For veterans burial information go to our website at
www.kauaiveteranscenter.org
or call The office of Veterans Services at 808-369-3535. Their office is located in front of the center. Mahalo!
Save the date ~ Veterans Memorial Golf Tournament
Save the date ~ Hawaii Line Dance Festival Craft Fair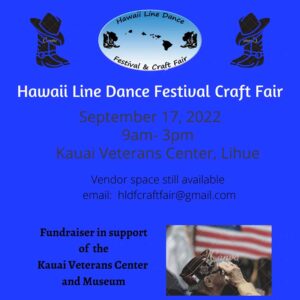 Hawaii Line Dance Festival Craft Fair – Application/Rules
Hawaii Line Dance Festival Craft Fair – Application/Rules – Food Trucks and Food Vendors
Please mail your donations to:
3215 Kauai Veterans Memorial Hwy.
Lihue, Hawaii 96766
Notate "Renovation" on the envelope or check.
Mahalo for your generous donation and support