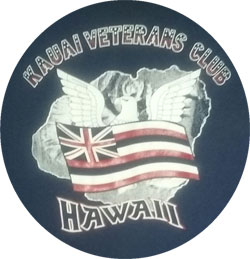 Norvin Olivas — Commander
Kaipo Waiwaiole – Vice Commander
Gemi Pascua – Adjutant
Aida Cruz – Treasurer
The purpose of the club is to:
1)  Provide a Veterans Club for the veterans on Kauai.
2)  Provide the opportunity for fellowship among the various veteran members residing on Kauai.
3)  Assist veteran members in good standing with financial assistance.
4)  Provide a forum for legislative action regarding veterans affairs.
Membership: All veterans who were discharged under honorable conditions are eligible for membership.  To maintain membership, veterans must pay annual dues of $12.00, and attend at least one meeting a year.
Fundraiser:  The proceeds of the fundraiser goes to support our Museum renovation, upgrades for the center and the JROTC program at Kapaa and Waimea High School.
We are proud supporters of the Kauai Independent Food Bank.  Members please remember to bring non-perishables items for the food bank on the next meeting.
Come and join us and be counted.  Contact Commander, Norvin Olivas, Ret. U.S. Army at nj_olivas@hotmail.com
Mahalo!