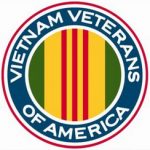 Interested in becoming a member?
For more information please feel free to contact Mike Johnson @ 808-212-1064 or mdjohnson68@msn.com
"Never again will one generation of Veterans abandon another" is the credo of Vietnam Veterans of America.
VVA recognizes the contributions and sacrifices of men and women in uniform. That is why we pledge to be a positive force as we work to educate future generations in hopes that the tragedies of Vietnam will never be forgotten…..nor repeated.
If you served on active duty in the U.S. military (for other than training purposes) between February 28, 1961 and May 7, 1975 (in-country Vietnam) or between August 5, 1964 and May 7, 1975 for Vietnam-era veterans, you are good to go.
Duty-Honor-Country.
Meetings are the last Friday of each month

Our first project we have worked on is a Veterans Garden to service homeless Vets and Vets with PTSD who wish to work in the garden in exchange for fresh vegetables and fruits. We have partnered with several businesses to help us with materials and labor.
Come to our next meeting and get involved.
Mike Johnson — President
808-212-1064
Meetings are held on the last Friday of each month at:
Kauai Army Recruiting Station
3-2600 Kamuali'i Hwy, Suite 1524
Lihue, Hi 96766