Cruz Control

Jerry Jona*Frank Cruz, Jr*Zak Villavicencio*Pali Carbanel
| | | | | |
| --- | --- | --- | --- | --- |
| Frank A Cruz Jr. | David Pacanas Jr. | Jerry Jona | Zak Villavicencio | |
| | | | | |
| --- | --- | --- | --- | --- |
| Pali Carbanel | Rheif Callihan | Brad Nelmida | Kaniho Giminiz | Darren Kiyotsuka |
---
Kaua'i Kollab

Kaua'i Based, Collaboration, and Multi-Genre Band

Kollab and Friends

Booking Information:
Elias Gonzales
(808) 482-9082
Instagram: @kauaikollab
Email: kauaikollab@gmail.com
Kaua'i Kollab members are Ryan "Macky" McKeague, Darrell Rapozo, Elias Gonzales, Jonah Cummings, Paul Kaiminaauao and Rydge Nuesca. The band was founded in late 2018 by lead vocalist Ryan McKeague and former drummer Anthony Tuitapou.
Kaua'i Kollab strives to provide quality performances and establish positive, lasting partnerships with local and neighbor island businesses. The group was formed to "Collaborate". Each member is an accomplished musician from other established groups on Kauai. They were brought together to backup each other when musicianship was needed for their other respectable groups. Over time, it became a regular gig as they began to establish their unique style and sound. They are eager to make good music and please their fans.
Kaua'i Kollab has experienced a huge success in their home island of Kauai and have made a few appearances on neighbor islands. They have performed online for the Hawaiian State Teachers Association (HSTA) and the Rice Street Business Association in Lihue, Kauai. The band continues to develop their unique style and sound. Because of their appreciation for music, they cover a variety which includes anything from traditional Hawaiian music to Motown, reggae, rap, hip-hop, and soft rock.
Kaua'i Kollab is ready to take you on a musical journey.
| | | | | |
| --- | --- | --- | --- | --- |
| Elias Gonzales | Darrell Rapozo | Ryan McKeague | Butter Defries | Paul Kaiminaauao |
| Jonah Cummings Jr. | Alton Cummings | Rydge Nuesca | Ricah Nuesca | Ricky Kimi |
---
D J M ENTERTAINMENT

DJ/SOUND SYSTEM SERVICES
Serving Kauai since 1985
Marvin De Vera
808-652-7024
marvd777@gmail.com
PO Box 804 Kalaheo, Hi 96741
Birthdays*Grad Parties*Reunions*Corporate Events*Weddings*Memorials
---
---
Elite Mobile Music
Est 2003
70's, 80's, 90's, Hip-Hop, Disco, R&B, Country & contemporary Hawaiian or
your playlist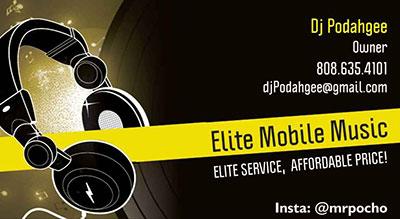 Masters of Ceremony (MC), Dj,
---
Mobile Dj – Matt Domingcil

(808) 346-2838 Text for initial contact

Provides music for Birthday Parties, Graduation, and Wedding, as well as your favorite playlist
---
Randy & Primrose Naukana Rego

Hawaiian Entertainment for all occasions
We would love to share our gifts through Mele (song) & Hula (dance)
Primrose – wedding officiant
Randy – Musician
Please inquire with Primrose
priumunea@gmail.com
808-639-1269

*Every Tuesday evening, we entertain from 630-830pm at the "Hot Spot!" Tahiti Nui!

*Every Wednesday 315-445pm at Makai Music and Arts Festival in Princeville…they are open from 1-5 pm with VENDORS GALORE!

*Every Thursdays at Nanea Restaurant in the Westin Princeville Ocean Resort Villas from 3-5 pm.
---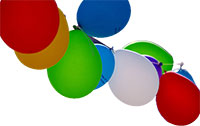 "SHOWTIME CHARACTERS"
Make Unforgettable Memories with our Special Characters
Brenda Biehler Turville-808 651-9785 Fax 808-822-1110
Director/Choreographer/Owner
bbiehler@hotmail.com
---
Blaze Entertainment & Media Service
Sounds*Lighting*Indoor Outdoor Events
AV*Custom Builds*Equipment Rentals
Percy Sanchez ~ 808-634-4469
---
🎵 Live Music for all events:
🎵 Hawaiian
🎵 Contemporary Hawaiian
🎵 Country
🎵 Alternative

Kyle J LaBenz




Musician, Guitar


808-551-8046
kylelabenz@gmail.com
---
Brian Fitchett
Email: bfitchett1157@hotmail.com
Full PA setup
Projector/screen
Full DJ equipment/ sound
DJ lighting
---
Aloha Photos
Photo Booth
Weddings
Birthday Parties
Graduation Parties
Corporate Events
Cell: 808-212-4353
Book Online – www.alohakauaiphotos.com