Now Accepting Applications!
Overview
KCC in collaboration with The Kauai Veterans Council is proud to announce the launch of our second cohort in the Startup Training Resources to Inspire Veteran Entrepreneurship (STRIVE) program which is part of a landmark initiative that transforms veterans and military family members into entrepreneurs. Delivered by Syracuse University's Institute for Veterans and Military Families' (IVMF) ARSENAL of 8 national entrepreneurship programs, STRIVE leverages networks and education resources in local communities to support and advance veteran owned businesses.
STRIVE at KCC is a free local program for veterans with a budding business. The program helps to identify, overcome and mitigate challenges for the new venture to pave the way for veteran business ownership success.
STRIVE empowers veterans, military members and their families to live the American dream.
STRIVE aims to open the door to economic opportunity for veterans, Guard members and reservists by developing their competencies in creating and sustaining an entrepreneurial venture.
Applications are welcome from all veterans, active duty (within one year of discharge), and military spouses who demonstrate a strong interest in entrepreneurship and small business ownership.
The 9 week course consists of evening in-person classes held at KCC's campus.
Eligibility
Open to all honorably discharged Veterans, spouses, active duty service members (with less than one year before discharge), and current or former members of the National Guard or Reserves.

50% or more of the business must be owned by a Veteran, active military service member, Reserve/Guard, or military spouse.
FAQ's
What will I learn from STRIVE
This program is designed to help Veterans through all stages of their business plan. Whether they have an idea, a business in the early stages, or an established business looking to grow, everyone will benefit from this training course.
Throughout the course, participants will develop their entrepreneurial knowledge and interact with subject matter experts to identify, overcome, and mitigate trouble spots, leading to increased confidence and potential for success.
The program's purpose is to take an early stage business or business plan through a structured and practical process.The course will be delivered:
Face-to-face: Interactive in-class discussions one night per week for 9 weeks

Mentorship: At the conclusion of the 9 weeks, participants have the opportunity to be paired with a mentor that has the experience to support the launch and growth of the business concept.
The STRIVE program is designed to set early businesses up for success. However, it is not designed to teach participants in-depth theories like those taught in an undergraduate or graduate level entrepreneurship program.
What are the expectations of me as a STRIVE participant?
Attend all classes

Be on time

Have all assignments completed and prepared each class

Be open to engage with fellow participants, instructor and guest speakers
What is the course schedule?
The STRIVE program is a mixture of in-class instruction and homework assignments. Participants will attend weekly evening meetings in person, and will be matched with mentors equipped with specific knowledge and backgrounds applicable to the growth of each business concept.
Closer to the starting date of the initial class, all participants will receive an invitation to an online course orientation. All university COVID-19 protocols will be followed regarding large group events. If delivery of the program must be conducted virtually, all participants will be notified as soon as this decision has been made.
Monday's 5:30pm-8:30pm

Class dates: May 8th, 2023 – July 3rd, 2023
What is the course content?
Each week the course will cover a different topic and have round table discussions led by local entrepreneurs. The topics covered in each course and the class schedule are listed below:
Week One: Introduction to STRIVE and the CE Mindset
Week Two: It's All About the Customer
Week Three: Key Resources
Week Four: Key Partners
Week Five: Key Activities
Week Six: Channels
Week Seven: Revenue Streams
Week Eight: Cost Structures
Week Nine: Making Your Pitch, Graduation and Next Steps
How to apply?
Applicants are encouraged to apply by April 1st, 2023. Seats are limited and applicants will be accepted on a first-come, first-serve basis. Therefore it is recommended that you apply as soon as possible.
All applicants must fill out an online application. In addition, each applicant must have a business idea or have an existing business to participate in the program.  The class content and assignments will utilize this information throughout the program.
Click HERE to begin the application process.
Once you have submitted your application, someone from Kauai Community College STRIVE Program will contact you to set up a zoom orientation.
After the orientation, you will be notified of your acceptance into the program.
If you have any additional questions, please contact a KCC STRIVE representative at dsoma@hawaii.edu or samsa@hawaii.edu.
Meet the KCC STRIVE Team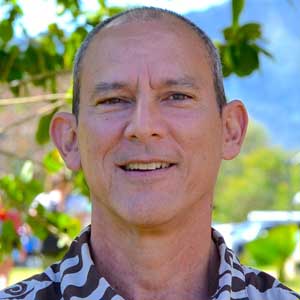 Dirk N. Soma was born in Waimea, Kauai and raised in Aliamanu, Oahu.  Growing up, he and his brother were always looking for ways to earn money for snacks, Hot Wheels, or the movies.  Lemonade stands, selling home-made Loves Bread malasadas, mangoes, and flavored ice cups were just some of the early entrepreneurial endeavors.  In college, Dirk started Stickman Ts, a t-shirt company that helped pay for his college tuition.  Once bitten by the entrepreneurial bug, Dirk created a dry cleaning pick-up and delivery service for downtown Honolulu business professionals and a catering company serving private aircraft throughout Hawai`i.  His passion for entrepreneurship continues as he now champions the innovators of tomorrow through his classes at Kauai Community College, as well as workshops and presentations that he conducts at conferences locally, nationally, and internationally.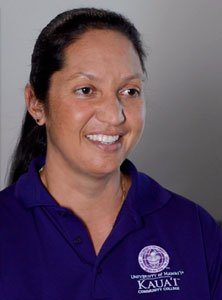 Hello! I'm Alicia Sams and I'm the Veteran Support Counselor at Kauai Community College. I will be assisting the program with marketing, recruitment and administrative tasks. I'm happy to answer any questions you may have about STRIVE and can't wait to help you grow  your business.