Contact information for the VA
TriCare Plan –  For guidance 877-988-9378
The Office of Veteran's Service (808) 369-3535
The Community Based Outpatient Clinic (808) 246-0497
The VA Counselors (808) 246-1163
---
---
Veterans in suicidal crisis can go to any VA or non-VA health care facility for free emergency health care
---

September 15, 2023
VAPIHCS Veterans,
The Enduring Cost of the Wildfires in Maui
The island of Maui continues to work on recovery efforts after the deadly wildfires in August. Remember that you can still donate to help Veterans on Maui rebuild their lives. VA has a donations page, and we are also working closely with our community partners like U.S. Vets and the Red Cross, and they have covered a significant amount of expenses for those displaced, from covering hotel room costs to groceries. Let us continue to keep Maui in our prayers.
Our staff in Maui and throughout the Pacific Islands have been working tirelessly in support of recovery efforts. We know this is a marathon, not a sprint. When the wildfires first broke out, our brave Maui staff were out in the community volunteering after work and doing all they could to support the Veterans from the areas affected by the wildfires, as well as community members in general. They kept the Community Based Outpatient Clinic (CBOC) open and operating smoothly, and hosted community partners and federal agencies at the clinic to ensure that Veterans could get many different services in one place. Most importantly, they took the time to listen carefully to the needs of each patient, and to help them and the Maui community, in every way possible. I'm so proud of their efforts.
For our Maui Veterans who have been affected by this terrible disaster, please know that we are going to be with you through all of this. As we go forward, we know there may be an increase in the need for mental health services, as well as monitoring for any difficulty related to toxic exposures during the fires. Whatever your needs are, we plan do everything within our power to meet those needs. You will not be forgotten.
I'd also ask Veterans in Maui and throughout the Pacific Islands to please remember that if you find yourself in an acute mental health crisis, you can always call 988 and get immediate assistance. The COMPACT Act passed this year, allowing most Veterans increased access to emergency mental health care. I strongly encourage Veterans who are having thoughts of harming themselves, experiencing depression, or having feelings of hopelessness to please reach out. Asking for help when you need it is a sign of strength. We all need help sometimes, and that's okay.
The Importance of Research
At the VA Pacific Islands Health Care System (VAPIHCS), we are committed to helping further scientific research to develop better medical treatments for common health issues. We are proud to participate in the Million Veteran Program (MVP), which is an effort to collect genetic information from one million Veterans in order to understand aspects of Deoxyribonucleic Acid (DNA) markers that may be connected to mental and physical health outcomes. If you haven't already given a sample to the program, please consider doing so. They have almost reached their goal of one million Veterans. I participated, and if you're ready to join me, you can call 808-861-3395, to speak with the Million Veteran Program (MVP) Coordinator.
Another project we are working on is our Neurofeedback research. This is a study focused on Veterans who have experienced a Traumatic Brain Injury and have resulting symptoms such as difficulty sleeping. If you think you might meet the criteria, please consider signing up with us. There is a modest financial compensation provided for participants, and you'll have the satisfaction of knowing that you helped further scientific inquiry that could benefit your fellow Veterans. Call 808-433-3316 if you'd like to sign up for this paid opportunity.
Scientific research is important to me because I'm not just the Director of VAPIHCS, I'm also a doctor. I understand how crucial it is for the medical field to continue to study problems and test new solutions. We can always do better, and research is part of our commitment to offering safe, compassionate, quality care to those who have worn the cloth of our nation.
Toxic Exposure Legislation

VAPIHCS continues to work to sign up new Veterans under the PACT Act. This toxic exposure legislation can increase coverage and benefits for many Veterans who were exposed to Agent Orange, burn pits, and other toxins during their military service. If you think you had toxic exposure during your military service, you may call us at 1-800-214-1306 and speak to our enrollment department (option 4) and let them help you navigate the eligibility requirements.
The PACT Act also authorized certain Veterans to apply for combat status; a special eligibility that can increase your access to medical benefits through VA. This is for National Guard and Reserve Veterans who were called to active duty in Iraq or Afghanistan- or called to active duty to work in support of those missions. The deadline is September 30, 2023, so please check with us right away if you think you might be eligible.
Join us in person at the Young At Heart (YAH) Expo in Oahu on September 22 and 23, 2023. This event will be from 9 a.m. to 5 p.m. at the Neal Blaisdell Center Exhibition Hall at 777 Ward Ave, Honolulu, HI 96813. Come with questions and speak with staff who can connect you with services and programs, help you understand eligibilities, and so much more.
Remember that you can also interface with us online. There is a webpage that explains the PACT Act legislation. You can scroll down to "Can I still file a PACT Act Claim?" and click the hyperlink for "Learn How to Submit Your Intent to File for more information." We are also hiring for several new positions in our new Environmental Management Services (EMS) department – as well as for positions at the new Daniel K. Akaka Community Based Outpatient Clinic (CBOC) which will open in Kapolei next year. Our new job listings are online at www.USAjobs.com . Additionally, you can always check the VAPIHCS website, Facebook, Instagram, or our Podcast for updates and information from our local station.
Special Observances
Each year on the third Friday of September, the nation recognizes former Prisoners Of War (POWs) and service members who are still Missing In Action (MIA). We call this national POW/MIA Day. VA recognizes on 15 September, recognize POW/MIA Day and, we must never forget the sacrifices these Veterans have made for their country.
Beginning on September 15, 2023, we will also begin our commemoration of National Hispanic Heritage Month, which runs from September 15, to October 15, 2023. During Hispanic Heritage Month, VA reflects on the contributions of Hispanic Veterans and employees, and on the diversity of their languages and cultures.
It's important to mark these special moments as the year slips by us because they celebrate important people and ideas that I feel are valuable to celebrate and remember. Before we know it, we'll be eating turkey and stuffing, giving holiday cards and presents to each other, and celebrating the new year. Let's take the appropriate time to pause in our busy lives and remember the people who make this country great, and to give them the credit that they deserve. Thank you to all our Hispanic Veterans, and to all those POW/MIA Veterans who have given much in service of the United States and all that it stands for.
Thoughts from Chaplain William Kunisch
We all have them:  Those two or three people that drive us absolutely crazy, push all of our buttons, and just the thought of them puts us in a bad mood.  I bet you're naming them in your mind right now! While the easiest thing to do would be to keep them at arms-length and dismiss them as obstacles to all things bright and beautiful, there may be a place for them in our lives after all.
Whether we like it or not, difficult people show us our faults.  If we are honest, there may be some truth in their criticism of us.  We can easily be blinded to our weaknesses and short-comings.  We can rationalize away our misdeeds and make all kinds of excuses for areas in need of growth.  But our defensiveness may indicate we need to take a second look at ourselves.  They will say what our friends are too kind to say, and their calling us out may be just the intervention we need to correct our course.
Difficult people remind us of the diversity and complexity of humanity.  We don't all think the same way or see things the same way, and our way may not be the only way to do something. The same way one holds up a diamond to appreciate its beauty from different angles, when we take the time to hear others out who disagree with us, we can gain some valuable information and may even learn to see a situation differently.
Sometimes, however, difficult people are just plain difficult.  But even then, they can be a blessing because they allow us to learn and practice patience. Every time they put us down, ridicule us or question our motives, and we do not respond in kind, our character grows bigger.  We may never win them over, but by practicing patience, kindness, understanding, and gentleness, we are leaving behind an example that can inspire others.
One Team, One Ohana!
Adam M. Robinson, Jr., MD, MBA, CPE
Director, VA Pacific Islands Health Care System
VADM, MC, USN, (RET)
36th Surgeon General, USN
Stay Informed
Website: hawaii.va.gov – submit your email to get our updates
Facebook: https://www.facebook.com/VAPacificIslands/
Instagram: https://www.instagram.com/va_pacific_islands/
Twitter: https://twitter.com/PAOOffice1
Podcast: https://vapihcspao.podbean.com/
---
National Guard and Reserves
https://www.benefits.va.gov/guardreserve/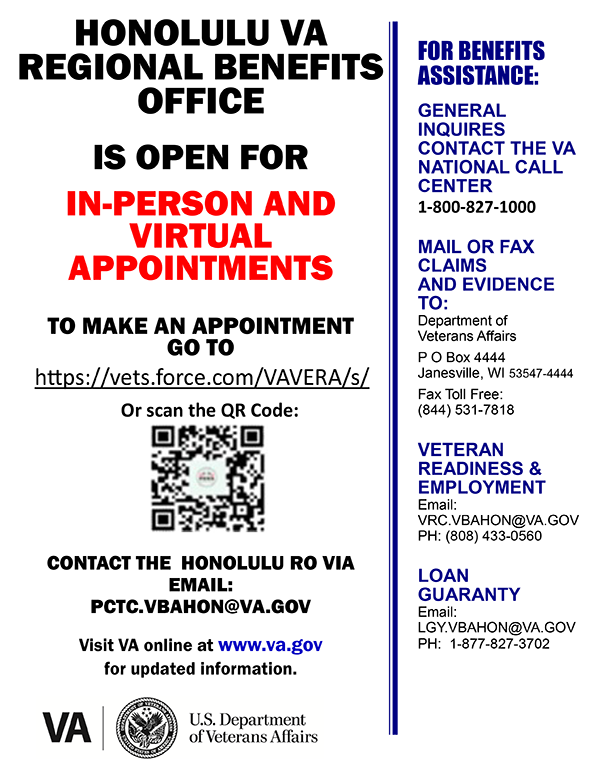 ---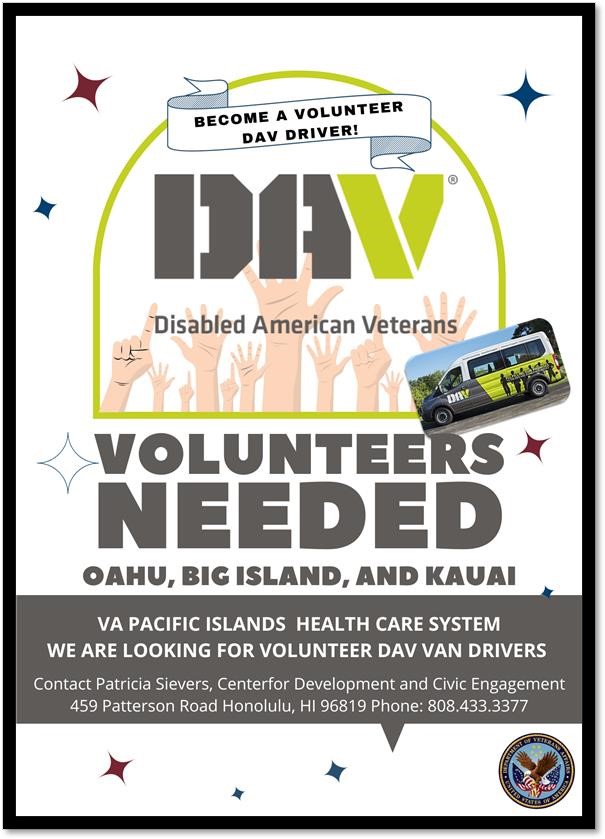 ---
PACT Act is now law, 23 New Presumptives, Agent Orange, Burn Pits
Military Funeral Honors
Provided by the Department of Defense (DOD)
It is the family's responsibility to work directly with the Veterans "Branch of Service".  Please contact the specific branch for "Military Funeral Honors Request Assistance".
For your convenience, we have provided the contact numbers below:
Army – 808-655-5124
Marine Corps – 808-257-7712
Navy – 808-368-3202
Air Force and Space Force – 808-448-0955
Coast Guard – 808-842-2992
---
June 2, 2022
Effective today, the Honolulu Regional Office (RO) will begin using the VA Visitor Engagement Reporting Application (VERA) to schedule telephone appointments for the Hawaii-based Veteran community.
The 808-433-0505 telephone number will no longer be monitored for incoming VA benefits related inquiries.
Attached is a flyer that contains scheduling information.  This flyer will also be posted to the Honolulu RO webpage at:  Honolulu Regional Office Home (va.gov).
What is VERA?  VERA is a self-service portal which allows visitors to schedule, reschedule, and cancel appointments.
Please let us know if you have any questions.
Sincerely,
Eric Gaskin
Coach
Department of Veterans Affairs
Veterans Benefits Administration
Honolulu Regional Office
P.O. Box 29040
Honolulu, HI 96820-1440
(808) 433-0535