Contact information for the VA
The Office of Veteran's Service (808) 369-3535
The Community Based Outpatient Clinic (808) 246-0497
The VA Counselors (808) 246-1163
---
Veterans in suicidal crisis can go to any VA or non-VA health care facility for free emergency health care
---

---
---
National Guard and Reserves
https://www.benefits.va.gov/guardreserve/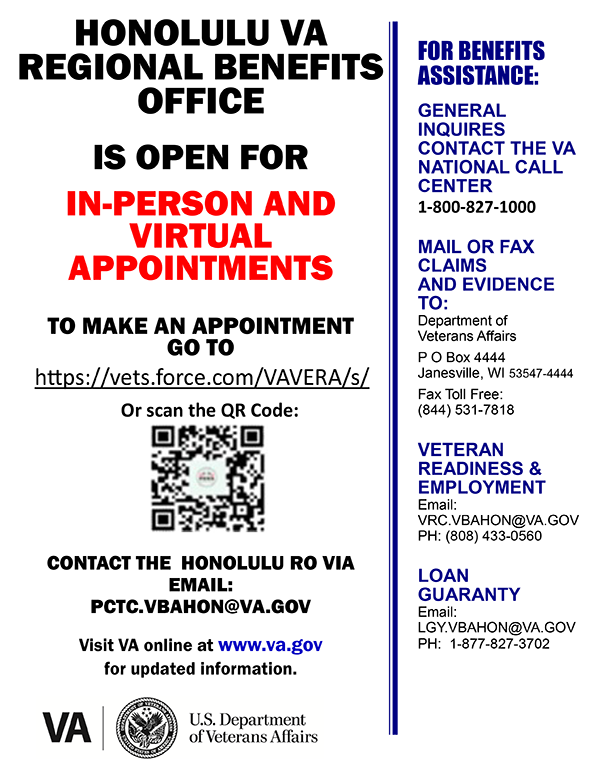 ---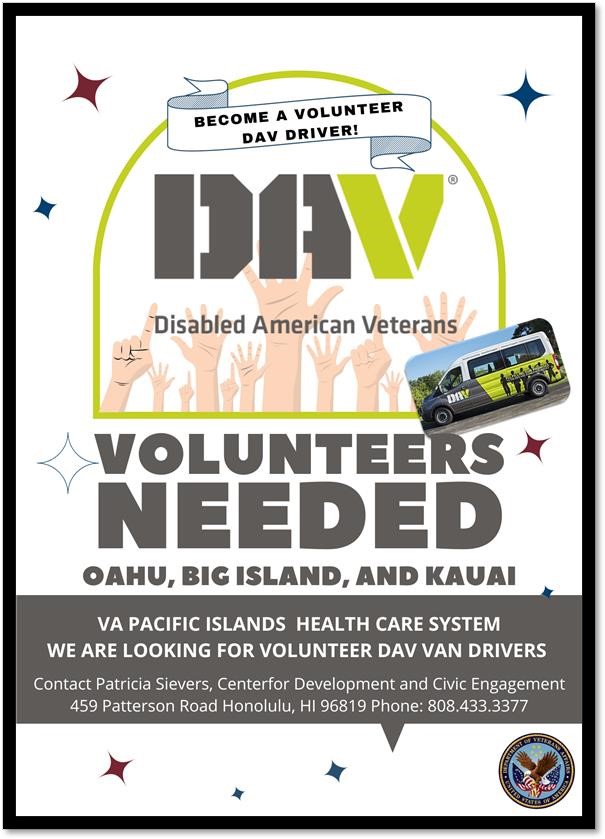 ---
PACT Act is now law, 23 New Presumptives, Agent Orange, Burn Pits
A Guide to the Best Hawaii Veteran Benefits in 2021
Burial Benefits Briefing Content 2022
Military Funeral Honors
Provided by the Department of Defense (DOD)
It is the family's responsibility to work directly with the Veterans "Branch of Service".  Please contact the specific branch for "Military Funeral Honors Request Assistance".
For your convenience, we have provided the contact numbers below:
Army – 808-655-5124
Marine Corps – 808-257-7712
Navy – 808-368-3202
Air Force and Space Force – 808-448-0955
Coast Guard – 808-842-2992
A Guide to the Best Hawaii Veteran Benefits in 2021
---
June 2, 2022
Effective today, the Honolulu Regional Office (RO) will begin using the VA Visitor Engagement Reporting Application (VERA) to schedule telephone appointments for the Hawaii-based Veteran community.
The 808-433-0505 telephone number will no longer be monitored for incoming VA benefits related inquiries.
Attached is a flyer that contains scheduling information.  This flyer will also be posted to the Honolulu RO webpage at:  Honolulu Regional Office Home (va.gov).
What is VERA?  VERA is a self-service portal which allows visitors to schedule, reschedule, and cancel appointments.
Please let us know if you have any questions.
Sincerely,
Eric Gaskin
Coach
Department of Veterans Affairs
Veterans Benefits Administration
Honolulu Regional Office
P.O. Box 29040
Honolulu, HI 96820-1440
(808) 433-0535