Week of Sep 20th
Sun

Sunday

Mon

Monday

Tue

Tuesday

Wed

Wednesday

Thu

Thursday

Fri

Friday

Sat

Saturday

September 21, 2022

(1 event)

5:00 pm: Veterans' Council Meeting at 1700

September 22, 2022

(1 event)

10:00 am: Kauai Veterans Club meeting
'
"Go For Broke: An Origin Story"
Movie Screenings
Saturday, Nov 11,  2023
Time TBA
Kauai Veterans Center, Lihue
FOR IMMEDIATE RELEASE
Contact:
Aida Cruz kauaiveteranscenter@gmail.com
"Go For Broke: An Origin Story" a locally-produced 92-minute film based on the true, untold story of the origins of the 100th Infantry Battalion, 442nd Regimental Combat Team, and Military Intelligence Service in World War II will be shown at the Kauai Veterans Center, located at 3215 Kapule Hwy, Lihue, on Saturday, Dec. 17, 2022.
Screen times will be: 11 a.m., 3 p.m., 5 p.m., and 7 p.m. Q&A with Writer/Producer Stacey Hayashi after each showing.
Produced by Hawaiʻi filmmakers and filmed entirely in Hawaiʻi (at many of the actual locations at which the real events occurred), the film brings to light stories of real life heroes: young Americans who faced racism and discrimination from their own government, and whose actions helped form what would become the most decorated combat unit in American history.
Writer and Executive Producer Stacey Hayashi's first feature-length film was 16 years in the making, and has garnered rave reviews and numerous awards since its premiere at the Hawaiʻi International Film Festival, where it was the Closing Night Selection and awarded the inaugural
"Movie Maker Award." Later, the film was named "Outstanding Feature Film" at the Normandie- WWII International Film Festival in France in 2018, and also won the Audience Award at the Boston Asian American Film Festival. Hayashi was featured on the cover of Generations Magazine (Aug-Sep) and served as the Ambassador for the 2018 Hawaiʻi Seniors' Fair at the Neal Blaisdell Exhibition Hall.
"Go for Broke: an Origin Story" stars Oscar-winner Chris Tashima, Peter Shinkoda (Netflix, "Daredevil" and MIDWAY), Cole Horibe ("So You think You Can Dance"), and Ban Daisuke ("Kikaida"), and features a soundtrack by ukulele virtuoso Jake Shimabukuro, who also makes his acting debut.
The film chronicles the remarkable story from the eve of Dec. 7, 1941, when over 4,000 Hawaii Japanese Americans were already in the military and defending Hawaiʻi, to when 169 AJA (American of Japanese Ancestry) college boys petitioned the military governor to let them show their loyalty with menial labor to help with the war effort, despite having been kicked out of the Hawaiʻi Territorial Guard for looking like the enemy, to the horrifying moment when the government classifies them as 4C, or "enemy aliens" forbidden to serve, and beyond, to their triumphant formation and deployment "aloha ceremony" at Iolani Palace before heading to basic training at Camp Shelby, Mississippi.
Many of the authentic details arise from the involvement of the real life people Hayashi brought to the film, including the first Japanese American killed in action on Dec. 7th, 1941, Torao Migita; members of his actual family portray themselves.
Among countless other real veterans' descendants, the real life grandson of Hawaiʻis future governor John A. Burns is in the film as a cameo, as well as real life HTG/VVV/442 veterans the late Ted Tsukiyama and the late Bishop Yoshiaki "Sharkey" Fujitani and the late 442/MIS veteran Herbert K. Yanamura, who saved the lives of 1,500 people in the Battle of Okinawa, and the late former US Senator Daniel Akaka (himself a WWII veteran). Even members of the current 100th Battalion, 442d Regiment, still active and stationed at Fort Shafter, have cameos portraying their WWII counterparts. Also fittingly, the University of Hawaiʻi at Manoa Academy of Creative Media played an integral role, telling an unknown story about their UH counterparts during WWII. The film is also rich in historical detail: in a scene featuring future Olympic Coach Soichi Sakamoto, who founded the Three-Year Swim Club, Sakamoto is portrayed by his real life last protege and successor as Swim Club Coach, Reid Yamamoto. Even the film's costuming reflects Hayashi's commitment to history: Luka Masuda, the actor who portrays 442 veteran Eddie Yamasaki, wears Yamasaki's original garrison cap.
The 442nd was made up of more than 14,000 Japanese American men who served with valor in the European theater and received 21 Congressional Medals of Honor, 7 Presidential Unit Citations, over 4,000 Purple Hearts and 5,000 non-combat casualties. Among their ranks was Medal of Honor recipient Daniel K. Inouye, who would go on to become a powerful and respected US Senator and President Pro Tempore — the first Japanese American elected to Congress. The motto of the Combat Team was "Go for Broke."
The film is dedicated to the late US Congressman K. Mark Takai, for his steadfast support in telling the stories of AJA WWII veterans, as well as all veterans and active duty members of the military. His family, as well as campaign members, who were the engine behind the last grand
scene of the film, can also be seen in the movie.
A portion of the movie's ticket fee will benefit the Kauai Veterans Center.
Tickets can be purchased at https://tinyurl.com/5n7keyd6
For more information, visit goforbrokemovie.com
92 minutes
Written and produced by Stacey Hayashi, directed by Alex Bocchieri
Also produced by Dean Sensui and Anne Misawa Cinematography by Jeremy Snell and Anthony Sanderson- Vallejo
Shot on an Arri Alexa operated by Abraham Williams
---
Thank you for joining us
Veterans Day 2022
---
Thank You for supporting our Line Dance and craft fair Fundraiser.
From:  Museum Committee & Kauai Veterans Center Management
2022 Hawaii Line Dance Festival
---
Kauai Island Crafters Fair
Hosted by: Kauai Paradise Heirlooms
Sponsored by: Veterans Organization
A portion of the proceeds is donated to the sponsoring veterans organization.
Saturdays from 8 am – 2 pm
2023
January 28th
February 25th
March 25th
April 22nd
May 8th
June 3rd
July 22nd
August 26
September 23rd
October 28th
November 25th
December 9th
---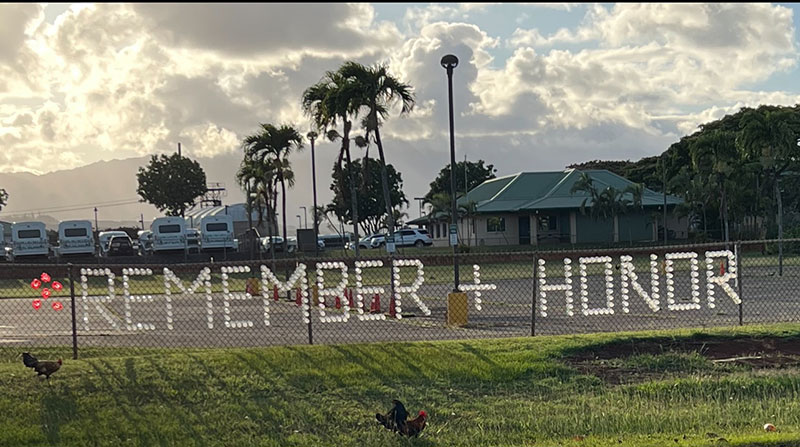 Memorial Day at the Veterans cemetery on Kauai May 2022