Please take a moment and honor our heroes and all of our first responders.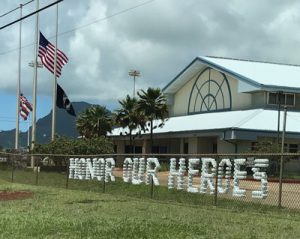 COVID-19 Update
We apologize for the inconvenience and thank you for your continued patronage. Our business office is virtual and arrangements for a site visit can be done by email. Please do not leave messages on our business line; we prefer that you communicate with us by email with all your inquiries and concerns.
All veterans organization meetings will resume beginning the month of June.
If you have a reservation and have questions, please email us instead of calling and leaving a message. Email kauaiveteranscenter@gmail.com
To our valued customers,  we appreciate your support and patience. We are awaiting guidelines to be able to have full service on the reopening.  Please do not hesitate to email us if you have any questions.
A gathering place for our Military Community and Veterans Organization.
A short 5 minutes from Lihue Airport on Kaua'i Veterans Memorial Hwy and within walking distance, the Kaua'i Veterans Center is the proud home of the Kaua'i Veterans Museum.
The Kaua'i Veterans Center exists to promote and enhance the delivery of benefits to all veterans, their families, and dependents of those who have given their lives for their country. It is a standing monument that honors their service, promotes their military heritage and embraces their family. It will serve as a meeting place for all military functions, veteran events, and family programs. It is also open to our community.
3215 Kauai Veterans Memorial Hwy, Lihue, Hawaii 96766
Contact the Kauai Veterans Center at: kauaiveteranscenter@gmail.com | 808-246-1135 | Aida Padilla-Cruz, Event Coordinator
Contact information for the VA
Please mail your donations to:
3215 Kauai Veterans Memorial Hwy.
Lihue Hawaii 96766
Notate "Renovation" on the envelope or check.
Mahalo for your generous donation and support.